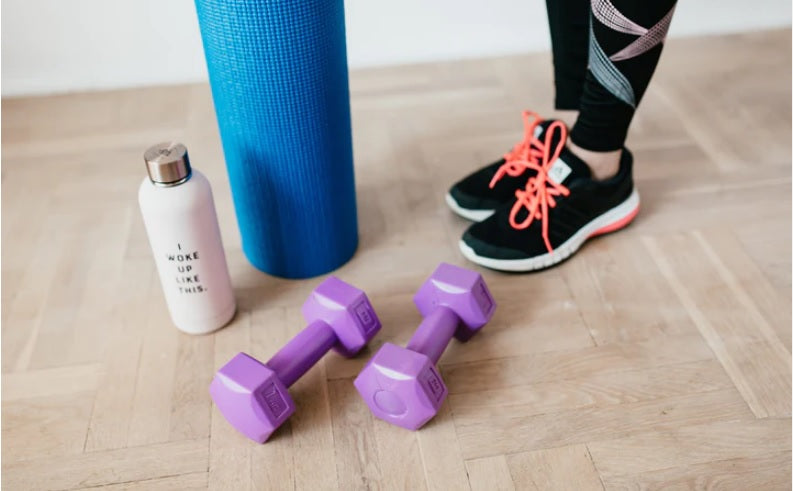 We are all busy people. But being active is very important.
Many people find health clubs memberships expensive, making exercise a privilege.
The difference between performance in a full-blown gym and a home gym is negligible, provided you complement it with outdoor activities- running and cycling.
So, how exactly do you build a gym?
This article will provide you with essential gym equipment and steps to plan and build your home gym. Let's work it out now:
Planning comes first
Plan your workout space-

 
You'll need to know how much space you have before purchasing any supplies. When shopping for equipment for your home gym, write down your measurements and keep them handy.
       2. Set your fitness goals-
When it comes to purchasing supplies, knowing your objectives will help you make better decisions. Write down your objectives and categorise them according to the type of exercise (endurance, stamina, balance, etc.) so you know what kind of equipment to purchase.
         3.  If you're buying workout machines, count the number of outlets for electricity
You'll need a place to plug in your exercise machines if you want to buy them for your home gym. If your workout room only has one outlet, having three separate machines can be a pain. When you're out shopping, keep that in mind.
          4. One can skip on workout machines, to save more money.
Workout equipment can be costly, and most exercises can be done at home with the use of weights, resistance bands, and an exercise ball. You can also add a pull-up bar to work your back muscles without having to use any heavy equipment.
Equipment for cardio and fitness
1. Minimum equipment exercise
A lot can be accomplished with little money, particularly when it comes to cardio and general fitness. There are several helpful guides on the internet for full-body, high-intensity aerobic workouts that don't need any equipment. Yoga and pilates are two fitness disciplines that need little to no equipment.
2. Purchase a foam roller
If you want to go even cheaper, get a length of PVC pipe from the hardware store and wrap it in a bath towel to make a foam roller.
See Exercises with Foam Roller: https://www.mensjournal.com/health-fitness/10-foam-roller-moves-your-entire-body/3-groin-roll/
3. Buy an Ab wheel 
You may want to go beyond crunches and planks while exercising your abdominal muscles, whether to support your back or to change things up. This problem can be solved in a single step with an ab wheel.
Watch Exercises with Ab Wheel: https://youtu.be/rqiTPdK1c_I
4.Bring a burst-resistant stability ball
These balls are one of the most versatile fitness accessories available. Since they support the spine and separate the stomach muscles, they are ideal for the abdominal function. The abs are best worked with a stability ball than with crunches or sit-ups.
See Exercises with Stability Ball: https://www.openfit.com/exercise-ball-workouts
Equipment for Strength
1. Buy a high-quality adjustable bench
If you can only spend a lot of money on one thing, make it this one. An incline bench, a flat bench, and a decline bench can all be replaced with an adjustable bench. Use an exercise ball instead of an adjustable bench if you can't afford one.
Watch Bench Exercises: https://youtu.be/akGv1A8dZgI
2. Get a set of dumbbells
Dumbbells have long been regarded as the superior strength-training choice. They are much smaller and less expensive than big home gym equipment.
See Dumbbell Exercises: https://www.menshealth.com/uk/building-muscle/a755117/the-10-best-dumbbell-exercises/
3. Prepare Sand-bags 
You'll need an old exercise bag, which you can fill with sand or gravel and tape tightly. These can be used for a variety of weight-lifting exercises that require resistance.
Read Exercises with Sand-bags: https://www.menshealth.com/uk/building-muscle/a757400/sandbag-exercises/
4. Purchase resistance bands 
You can substitute resistance bands for dumbbells in any workout that calls for them. You can imitate any standing machine if you find a position to anchor one side of the band.
How to Exercise with Resistance Bands: Read our blog (link)
5. Build a pulling tyre
Building a pull sled is a cost-effective way of increasing leg strength and general physicality. It is a bit of a DIY project. A tow rope and a wide tyre are all you need for the most simple recipe; simply connect one to the other and you're ready to go.
Exercises with Tyre: https://www.menshealth.com/fitness/a19054300/tire-workouts-thatll-absolutely-kick-your-ass/
6. Buy a pull-up bar
Make sure you have a solid door frame to use in your house. Try to find one that can also be used as a bar for triceps and push-ups.
10 Ways to Use a Pull-up Bar: https://www.menshealth.com/uk/building-muscle/g752299/10-ways-with-a-pull-up-bar/
7. Purchase a Kettlebell 
The kettlebell is a must-have piece of equipment for your home gym because it is so versatile and efficient. A kettlebell exercise, which includes anything from squats to push-ups, will burn up to 20 calories per minute, which is about the same as running 2.5 km in 6 minutes.
Kettlebell Exercises To Do: https://www.menshealth.com/uk/building-muscle/a758657/the-7-best-kettlebell-exercises-to-build-muscle/
Taking care of particulars
Uninterrupted Space
Make every effort to locate your home gym in a quiet area. This will help you stick to your workout by reducing distractions and allowing you to concentrate on the task at hand.
Proper Flooring
Unless your home gym is carpeted, you should seriously consider investing in some padded flooring, even if it's just for a corner. By that, the wear and tear on your knees and other joints can be avoided.
Put a Tv/music set
If you want to follow along with workout videos, a television is especially useful. Music may also be an important stimulant for your workout; studies have linked music with the right rhythm to longer-lasting workouts.
Buy wall mirrors
You won't have a partner to guide you on technique because you'll be exercising alone in your home gym much of the time. Using a mirror to watch yourself exercise will help you identify any form issues. 
Create a Storage Plan
Storage is important if you want to fit a lot of gear into a small room. Pick up a storage bin that can slip under your bed or couch to house your exercise mat, resistance bands, jump rope, and another lightweight, portable parts for minimalist workout routines.
This article is written by the TRUEREVO editorial team. TRUEREVO makes functional sportswear for men & women & focuses on running, training & sports apparel. Check it out at https://www.truerevo.com/
---